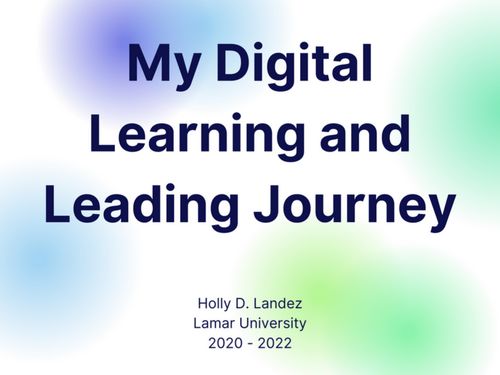 ---
Where & Why I Started
My Digital Learning and Leading journey has been one of growth, exploration and interest to me. Looking back I can see growth in myself both professionally and personally. I attribute this to the COVA method and the significant learning that was purposefully designed for success in the program.
I am certain that innovation occurred in my school district because of the work I was doing in the DLL program, beginning with the Innovation Plan and the projects that were associated with it.
Prior to enrolling in this graduate program, I worked hard as a District Instructional Technologist every day for six years. However, I was not sure that I was having an impact or innovating. Generally, I was just going with the flow, and continuing the work that my colleagues had designed. It was fun work, but I did not recognize that we were innovating. Our work was centered around:
professional development in digital learning topics and blended learning
overseeing iPad initiatives such as our iLearn program for elementary teachers
supporting applications such as our learning management system, Schoology, and several others
supporting librarians by overseeing their PLCs and organizing special events like Battle of the Books and their summer library program (which became STREAM Camp)
organizing a digital citizenship initiative to be supported on campuses by counselors, librarians and campus techs.
While we were busy doing that work, there were organizational changes in our district that left us with an uncomfortable uncertainty around our department and positions. This prompted me to quickly seek an additional teacher's certification in technical applications. It was then that I realized that I probably should go to graduate school. But I did not go. Then the pandemic hit, and our work shifted to supporting virtual learning. It was extremely challenging, and at times I felt overworked and undervalued. I did not complain or ask for additional help because EVERYONE in education was struggling to help students grow and succeed under difficult circumstances.
That trying time did bring about some necessary innovations in our district. My department quickly designed and implemented online training for teachers, students, and parents in multiple applications. We also procured an additional online platform for early learners, Seesaw. I observed teachers stretch out of their comfort zone to teach virtually. It was inspiring to see them embrace the digital tools they needed to be successful.
Beginning in the summer of 2020, I was casually considering earning my Master's degree. It would be essential to have the degree if my department grew and I could potentially lead a team. I revisited the Lamar University Digital Learning and Leading degree plan page multiple times before I decided to fill out the form for more information. The program appealed to me as it was very closely related to the work I was doing. Additionally, the online five-week courses sounded manageable and could fit my busy work lifestyle.
After filling out the form, I received a call quickly from Lamar. Then before I knew it, I took the leap of enrolling without thinking too long and hard about it. I would start two weeks later! I did not want to put this off another year due to a fear of failing, potential workload or financial commitment. After 26 years of working in education, at age 49, it was finally time to forge ahead. Looking back, I am grateful that I made that life-changing decision. The time has passed by very quickly, and it is hard to believe we have reached the end of the program. Although I am older than the average student, I sincerely believe that it is my age and experience that contributed to my success in the program.
---
Who Was Involved
Once EDLD 5305 started, and we wrote our first introductory discussion posts, I realized that I was not the only seasoned educator my age in the program. I very quickly connected with three classmates, two of which are close to my age. Our group of four stuck together and supported each other every single step of the way. The ability to collaborate and commiserate with friends certainly contributed to my success in a major way. Another contributing factor to my success in the program has been the very knowledgeable, supportive and encouraging instructors we had throughout the program. While all of our instructors clearly have expertise in the COVA method and Digital Learning, there are three instructors that stood out to me as very inspiring because they modeled a teaching approach that I hope to emulate. Dr. Thibodeaux, Dr. Reed and Dr. Grogan consistently fostered a safe, encouraging, and collaborative environment during the class meetings. Other people that contributed to my success are my family and my colleagues. They were all very patient with me when I needed to prioritize school work over other activities.
---
Highs & Lows
The past seventeen and a half months have been a series of highs and a few lows throughout the program. It has undoubtedly been a period of growth for me! I started the program just as I start every project in my life, full of enthusiasm and with good intentions for success. The structure of the program in five week courses supported my success and progress because it was relatively fast-paced without being too stressful. As a junior high, high school and undergraduate student, I was never very motivated. I did just enough to squeak by. In regular semester-long courses in my undergraduate courses, I had a tendency to procrastinate required reading, studying for tests and writing papers. Whether it's age, experience, the financial investment, or COVA, the learning in this program has been markedly different for multiple reasons:
The courses were short, so it was easy to keep up.
Because of the COVA method, the work was authentically tied to my daily job. The learning was authentic, so it paid off to do thorough research and planning on my projects.
The nature of the work was centered around a project, with practically no tests. We only had quizzes in one course.
Practically every course we had was related to the innovation plan, or could be tied to it in some way. This gave me the sense that my work was building upon itself, supported by research and new knowledge gained in previous courses. At times it felt like I might be wearing out the topics a bit. But looking back now, I can see growth and a development of ideas.
My team of classmates proved to be a powerful motivator. I wanted to do as well as they did. Our conversations in Slack frequently prompted me to get to work instead of procrastinating. Jen, Angela, and Hannah helped me develop the skills needed to be a more self-directed learner.
Earning good grades in the beginning was very motivating because I wanted to continue to meet my potential in each course. I did not want to lower the bar, so I had goals to maintain good grades.
The element of having a public portfolio was a huge driver for me! Nearly every assignment in the course has its own blog post to document the journey. The thought that my classmates, colleagues and other friends in the edTech world would potentially see my work motivated me to create high-quality material. When I interviewed for my current position in the middle of the program, I shared my ePortfolio as an example of my work. It gave a clear history of my accomplishments as well as information about my beliefs and demonstrated my communication style.
The generally predictable course structure was also very helpful. Having a weekly class meeting early in the week, a discussion post with two discussion responses and a weekly (or bi-weekly) assignment was very manageable.
There were not too many lows at all because the coursework was authentic. Those mainly occurred when I did not manage my time well in preparation for a larger assignment, such as our first literature review. But after I began to recognize the predictable workflow for each course, it was easier to keep up and not get behind. Generally, I reserved the weekends for completing assignments.
---
What I Have Created
The Digital Learning and Leading program has provided me with ample opportunities to create and plan. I already felt comfortable with many digital tools, but this course helped me deepen my skills with:
---
What I Have Accomplished – Course Goals
It wasn't until EDLD 5305, Disruptive Innovation, that I realized my department was already involved in some very innovative work. My primary goal was to get back to developing those innovations that had been interrupted by the pandemic. After carefully considering my innovation plan with help from Dr. Thibodeaux, I chose to focus on adapting our existing summer library STREAM camp to include virtual learners, a separate middle school component, and 3D printing. Because of the work completed in EDLD 5305 with the innovation proposal, a research literature review, an innovation outline, a video to share with stakeholders, and an annotated bibliography, I had a solid structure for innovation with our STREAM camp.
---
---
---
EDLD 5304, Leading Organizational Change was a powerful course for me because it empowered me with tools to influence innovation in my district. In that course, I shifted my focus from STREAM Camp to library transformation. What a joy it was to go back and revisit this work we completed slightly less than a year ago. This course was rich with learning and prompted me to observe the behavior of those around me. As I reflect on that time in my professional career, this course helped me GROW. I was working with a very out-spoken close colleague at the time. Without the benefit of reading Crucial Conversations and Influencer, I may not have grown the courage and backbone I needed to establish my ability to lead. Also, many of the goals that I outlined in EDLD 5304 for transforming libraries came to fruition! I would likely have never developed those ideas with such specific detail if I were not in this program.
---
In EDLD 5313, Creating Significant Learning Environments, I appreciated the opportunity to refresh my memory on the various learning philosophies like constructivism. The first time around that I learned those things in college I did not have a good grasp of the theories. I was inexperienced. Also when I was in college and learning those theories, I was not yet a parent. The concepts felt somewhat abstract to me. As you watch students and your personal children learn and grow, those learning philosophies take on new meaning. In this course, after reading The New Culture of Learning, we asked What If questions around the possibilities of creating connections and positive culture to support learning. I organized these ideas in a Sway presentation and created a metaphorical video relating a classroom to a farm.
---
---
In EDLD 5315 Assessing Digital Learning & Instruction we read Mertler's online book Action Research and planned methods of quantitatively and qualitatively measuring the instructional impact of the implementation of our innovation plan. The focus of my action research plan was the 3D printer initiative for our elementary libraries. My fundamental research question was, "To what extent does equipping elementary libraries with 3D printers impact student engagement in the library?" Prior to completing our action research plans, we created an outline and wrote a third literature review. Since I moved to a neighboring school district with a promotion to Director of Digital Learning and Innovation in January 2022, I was not able to fully carry out this action research. However, developing the process and considering methods of evaluation is very important to future innovations in my new school district.
---
The coursework EDLD 5318 Instructional Design In Online Learning was timely and practical for me. It fit right in with the 3D printer initiative for the elementary libraries. It was essential to have a way to prepare campus staff to implement the 3D printers effectively. An online course in our learning management system was the perfect forum for that. After reading Tony Bates' Teaching in a Digital Age, and developing a plan using an Understanding by Design Template and Fink's 3 Column Table the outline learning outcomes, I was equipped to design a solid online course. A process that proved to be very valuable was the OSCQR Course Design Review to evaluate elements of the online course. Overall, I used the strategies gained in EDLD 5318 to share resources and design an online community to support the new learning. This was a strong beginning to make the 3D printer initiative a success. All elementary librarians, campus techs and some curriculum specialists and teachers were enrolled in the course to build their skills. Participation in this course was in progress when I left Killeen ISD to work in Copperas Cove ISD.
---
In EDLD 5389 Developing Effective Professional Learning, we studied the work of Allison Gulamhussein to learn strategies for engaging teachers in authentic and active professional learning. Once again, I used an Understanding by Design Template and began a 3 Column table to design a 3 year professional learning plan that was :
ongoing
addressed specific issues
engaging
highly effective
specific to the discipline
This plan was not necessarily connected to my innovation plan, but it was authentic learning because this type of planning is directly connected to what I do at work. I will certainly carry the knowledge and skills gained in this course in designing future authentic professional learning opportunities for teachers.
---
---
EDLD 5317 Resources For Digital Environments put me somewhat out of my comfort zone as we were tasked to write an article to submit to an actual reputable publication. We developed an outline, rough draft, media pitch, and final draft. The topic of my article was to compare the STREAM Camp of my innovation plan to the STEM camp in my new district. After I have an opportunity to gather data on the STEM camp coming up in June 2022, hopefully I will gain the courage to submit the article to the TCEA Tech Notes blog spot. Part of being a true digital learning leader is to recognize and highlight successful innovations to inspire others to innovate in their learning environments.
---
---
What Worked
I learned so much throughout the program and I believe that the COVA method contributed to that. Every assignment I did had some connection to my daily work as a District Instructional Technologist. The only way to manage time to be successful at work AND in school was to combine them.
The research, writing and other coursework we did certainly helped build my strength and confidence and gain a voice at work. As the coursework was closely connected to work I was already doing, it brought some validity to much of my daily work. That in turn helped develop my leadership skills.
I believe that building a solid structure to my ePortfolio served me throughout the program. On this coursework page, each course links to blog posts that were categorized with that course name. This organizational structure was inspired by many of the exemplars that we were provided.
Other factors that worked for me were:

Creating a YouTube playlist of videos for each course
Speech to text for quicker writing. Dictation became essential for effective writing. I recognize that my writing has evolved throughout the program.
Text to speech for more effectively reading required material.
Subscription to Citation Machine to keep a list of resources for each course
Subscription to Scribd to have a wide variety of eBook, Audiobook and PDF resources available.
Subscription to SlidesGo to make appealing slides that embedded nicely in my WordPress site
Using the weekly discussion posts as the base for upcoming written assignments. I realize that many of my discussion posts were too long, but the strategy of using those posts as pre-work for assignments was critical to my progress.
---
What Could Have Been Done Better
One thing I absolutely could have done better was to deepen my research. In our work we really did not have to do an excessive amount of research papers, with only three literature reviews and an annotated bibliography. I did certainly develop some research skills and I especially loved Research Gate. Also I was pretty pleased with the digital resources available from the Lamar University library. I realize how fortunate we are to be students in 2022! My online research is certainly much more prolific and efficient than researching in my undergrad work. Back then we might check out a whole stack of books and get one line of research out of each book if we were lucky. Also, we no longer have the nightmare of microfilm and microfiche.
Another thing I could have done better in the program was learned to use Canva more effectively. One classmate, Hannah, always built the most beautiful Canva presentations. I have barely a surface level knowledge of Canva, and never mastered the presentation or video features. That is an area in which I need to improve.
Another thing I could do better also is to work ahead. Frequently, I did not give myself enough time to work without feeling pressure. This is where my cohort was essential to me! Their encouragement was indispensable!
---
Lessons I Have Learned – Separate from the Course Goals
The biggest lesson and eye-opener for me was that there are abundant opportunities and resources available, and all you have to do is be open to them. That is indeed authentic and significant, as I began to consider other potential job opportunities. I would not have done that without this program, as I intended to retire from Killeen ISD as a District Instructional Technologist.
Another lesson I learned was not to compare myself to others. Rather it was more effective to use classmates' work as a source of inspiration. Everyone's work was authentically their own!
A third lesson I learned is that everyone has great ideas. The most effective and beneficial classes that I felt we had throughout this program were led by instructors that encouraged collaboration and sharing within the class meetings. That was where true connection and collaboration occurred.
I also learned to continue to be flexible and willing to change the plans when needed. For example, my innovation plan wrapped up early in the program and I needed to focus on other work in my job. Therefore, I was able to mold the authentic work with the coursework and keep it mainly connected to the innovation plan.
I learned to anticipate change at my previous school district as a result of our work in this course because we were so focused on innovation. The trick I learned is to time the suggestion of change well. Carefully timing helped me innovate: STREAM Camp, 3D printer initiative and library transformation.
---
Where I Am Now
I can think of two courageous leaps that I have taken as a result of being in this program. The elementary 3D printer initiative that I led at Killeen ISD where we purchased 26 printers to establish a library standard was not one that was necessarily well received in the beginning. But because I had done research in this course, and developed online training as part of this program, I was prepared to thoroughly share the reasons why those 3D printers were a good idea.
Since then, I have moved to my new district. Just last week my assistant superintendent (without even being asked) said to me, "We are going to buy a 3D printer for every elementary library." I think that's amazing!!!
The other example of "daring to take a risk" was leaving one school district after being there for 27 years to another district to take on a leadership position. I am grateful for the opportunity even though it has been challenging and I am definitely out of my comfort zone. I would not have had the courage to take that leap if it had not been for the DLL program at Lamar University. By learning new leadership and planning skills, I have also had more courage to collaborate with various departments to build the diversity of my network. In some cases, curriculum and technology departments have not always seen eye to eye. As someone in the curriculum department, is a major goal of mine to have a harmonious relationship with the technology department.
---
Where I Am Headed
As my eyes have been opened to additional possibilities, I have some potentially lofty goals and dreams. I am not sure which ones I will actively pursue yet, but potential future plans include:
Earn my ISTE Certification – I was previously enrolled in the program and did not complete it due to time constraints. Now I am better equipped to tackle the ISTE portfolio submission.
Become an Apple Distinguished Educator – My district is currently rolling out a 1:1 iPad initiative for early learners. This will be a good springboard for me to make a difference and earn a distinction simultaneously.
Work as an adjunct professor at a local community college or university. I realize now that I have experiences and expertise to share.
Move out of public education and work for an edTech company when I become eligible for retirement in a little over two years. I do not have any specific ones in mind, but I know there are plenty of options.
Run for the Killeen ISD School Board as I still live in the community and have an everlasting connection to the district where my children were educated.
Present a TEDx Talk on my experiences as an educator, digital learning leader or an overcomer of difficult circumstances. I do not have a specific topic in mind, but I still have time to dream big!
---
References:
Covey, S., McChesney, C., & Huling, J. (2012). 4 disciplines of execution: Achieving your wildly important goals. S.l.: Simon & Schuster.
Dweck, C. (2016). Mindset: the new psychology of success. Random House
Horn, M. B., Staker, H., & Christensen, C. M. (2017). Blended: Using disruptive innovation to improve schools. Jossey-Bass.
Grenny, J., McMillan, R., Patterson, K., & Switzler, A. (2012). Crucial conversations tools for talking when stakes are high. McGraw-Hill.
Grenny, J., & Patterson, K. (2013). Influencer: the power to change anything. McGraw-Hill Professional.
Gulamhussein, A. (2013, September) Teaching_Effective_Professional_Developmt.pdf. Dropbox. https://www.dropbox.com/s/j13c5mk092kmqv9/Teaching_Effective_Professional_Developmt.pdf?dl=0
Mertler, C. A. (2013). Action Research (6th ed.). SAGE Publications.
Ribble, M. (2015). Digital citizenship in schools (3rd ed.). Eugene, OR: International Society of Technology in Education.Thomas, D., & Brown, J. S. (2011). A new culture of learning: cultivating the imagination for a world of constant change. CreateSpace Independent Publishing Platform.
---
---
---