Culminating Project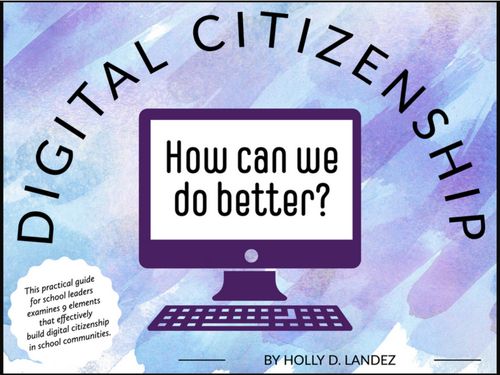 Reflections
This class has provided me with a wide range of insight in the topics of digital citizenship. With the availability of ubiquitous technology and the growth of the internet has progressed across the past 30 years, we have developed the need to transform our perception of what it means to be a good citizen. Now it is the responsibility of all involved in raising students to help them develop smart and responsible digital citizenship skills as well. This includes:
Parents
Teachers
school administrators
community leaders
Generation Z, that is students born between 1997 and now, have been born into a world of accessible technology. According to Pew Research Center, ninety-seven percent of teens use social media. They do not exactly separate the real world and the digital world. Therefore, it is logical to include digital citizenship skills in most areas of their education and upbringing. Just as we frequently remind students how to properly conduct themselves in various scenarios (classroom, assembly, restaurants), we should remind them of how to responsibly conduct themselves online. This course has helped strengthen my skills in that area.
I believe that my biggest accomplishment and best work in this course is the culminating project designed in Book Creator that defines each of Mark Ribble's 9 Elements of Digital Citizenship. It is a tool that school leaders can use to share with teachers and parents which includes resources associated with each element. The mantra present on each page of the book is, "How Can We Do Better?" I chose this mantra because even though digital citizenship education is not a new concept, we must constantly strive to improve the knowledge and skills we impart to students. As technology develops and changes, the challenges for digital citizenship education increases. According to enough.org and DigitalTrends.com, there has been a 70% increase in cyberbullying in recent months.
We must ask ourselves how we can do better at preparing students for positively impacting their digital world. I arrived at this question after watching the 2020 Netflix documentary The Social Dilemma. I don't necessarily agree with every dire message portrayed in the film, that all social media platforms are driven by greed and disregard the mental health and wellness of users. I do agree that social media has changed the landscape of society. I also agree with Jaron Lanier, computer philosophy writer and a founder of the field of virtual reality, who says at the end of the documentary, "We can do better."
One challenge I did face was digesting the amount of content in the course that we needed to digest. Although, I do also consider that a strength of the course. The concepts around Digital Citizenship are rich and require more than five weeks to master.
The most meaningful thing that I learned in the course was to persist in my leadership role of emphasizing the need for richer digital citizenship education. In many districts, it ranks low on the list of educational priorities, particularly now as student and teachers are facing so many learning gaps because of the pandemic. Some districts merely provide a technology acceptable use policy, a list of things not to do. In my opinion a more positive and effective approach would be to weave digital citizenship education into regular instruction, providing students with strategies for being a good digital citizen. That also happens to my favorite thing of the course, to make it my mission as a Director of Digital Learning to lead my new district in evolving their implementation of digital citizenship instruction.
References:
Image Credits:
People illustrations by Storyset